Rocky Shield is a free mobile safety application provided and maintained by University Police in conjunction with the Dean of Students office. Rocky Shield allows you to:
Call or text for help
Report suspicious activity
Request safety escorts
Set safety checks with "Friend Watch"
View the Student Handbook & Emergency Procedures
Access the campus shuttle schedule
Submit an Accessibility Alert concern to Environmental Health and Safety (For example: You find a mobility ramp or elevator that is out of service and you would like to report it)
Calling or texting University Police from the Rocky Shield application will provide UNC Asheville dispatchers with your profile information, internal positioning data (on campus buildings only), and supplied medical and emergency contact information.
---
Set Up Process
When first accessing Rocky Shield, you will be prompted to enter personal information, including your name, date of birth, and phone number. You also have the option to choose emergency contacts to be notified in case of an emergency activation or for Friend Watch checks.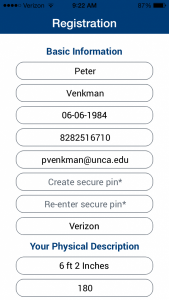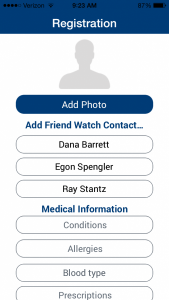 Profile information you enter will be accessible to University Police dispatchers upon activation of the emergency button. Medical information is not required, but can be helpful for responding personnel in case of a medical emergency.
The 4-digit secure PIN number is used to secure personal information stored in the app and is required to deactivate emergency alerts and security timers. If you forget your PIN contact University Police for help accessing your account.
---
Application Features
Get Help Emergency Button
Services and Tips

Request a Safety Escort
Submit a Tip
Resources: Student Handbook & Emergency Procedures
Profile Information / Update

Friend Watch
Crime Map
Where's the Shuttle
Printable RockyShield Tutorial
"Get Help" – Emergency Button
Click on the red "GET HELP" button to initiate a call to University Police or 911 center. Profile information from Rocky Shield will provide UNC Asheville dispatchers with your information, internal positioning data (on campus buildings only), and supplied medical and emergency contact information. An email will also be sent to your emergency contacts with your cell phone's location information.
Note: Activations occurring off campus will automatically be routed to 911 and they will be unable to access your profile information including medical conditions. Even with the best technology, cell phone GPS and positioning data can be inaccurate or unavailable. You should be prepared to tell the dispatcher your exact location whenever possible.
Services and Tips
Request a Safety Escort
If you would like to request a Safety Escort, this button will connect you directly with University Police without activating the emergency features of the application.
Submit a Tip
This feature allows you to submit information to Public Safety. You can report suspicious activity or other crime tips with attached photos or video. There is also an option to submit the tip anonymously, which will remove all personal profile information from the report received by dispatchers.
Resources
The resources section allows you to view the UNC Asheville Student Handbook in full as well as emergency procedures for:
Active Shooter
Suspicious Behavior/Packages
Fires
Medical Emergencies
Weather Emergencies
Utility Failures
Profile
You can access and edit your profile information from this tab. This can only be accessed by entering your 4-digit secure PIN.
Friend Watch
Friend Watch allows you to set a timer for the expected duration of an activity or event (up to two hours) to ensure your safety. Once you've completed your activity safely you can deactivate the Friend Watch by entering your pre-set PIN number. However, if you are unable to disable the timer an e-mail with your location will be sent to your emergency contacts so they can check on your wellbeing. Some examples of when to use this feature would be if you're going on a jog/walk alone or traveling to an unfamiliar place.
Crime Map
The Crime Map displays Clery crimes that have occurred on campus within the last three weeks. Click on pins to see the date, time and location of the offense. The crime map is updated in unison with the Campus Crime Log.
Where's The Shuttle
Where's the Shuttle allows you to look up the scheduled shuttle stop times. Select your route and stop for a list of upcoming times.
The displayed times are based on the 12-minute route schedule published by Transportation services. For updates and info on shuttle service, please check the UNC Asheville Transportation website.