The University Police Department works with Parking Services to assist with parking coordination and parking reservations for on-campus events. This includes:
Traffic control plans
Reserving parking spaces for event VIPs
Parking assistance for oversized vehicles
Monitoring loading/unloading of buses
Electronic signs: programming and placement
To request special services, please contact Parking Services at 828.251.6691 or parking@unca.edu.  You can also contact University Police at 828.251.6710 or police@unca.edu. Please give at least two weeks notice when requesting reserved parking spaces or officer assistance.
Event Parking Signs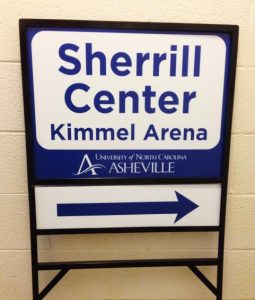 To prevent excessive signage waste and create consistent markings on campus University Police has H-Frame sign stands available for use for on-campus events. Have a regularly occurring or annual event? You can have a sturdy, reusable sign to place. No more worry about which way to print the arrows!
The 24″ wide by 18″ high H-Frame signs are available for check-out at Weizenblatt Hall.* Each frame comes with an adjustable arrow sign in the bottom section. The department has several general area signs available for use, or you can contact FastSigns of Asheville or any other vendor to have your own custom reusable sign made.
For more details contact Assistant Police Chief Danny Moss (dmoss@unca.edu or 828.350.4578)
*There will be a $40 replacement fee for lost or damaged sign frames.
Digital Visitor Parking Passes
Visitor spaces on campus require a visitors permit. Permits can be obtained by visiting Weizenblatt Hall (open 24/7), or university employees expecting a guest can request a digital permit in advance by contacting Transportation Services at transportation@unca.edu or police@unca.edu.
---
Event Security
University Police provides security services for special events upon request. The event must be sponsored by UNC Asheville or held on UNC Asheville property.
Requests for security services must be made at least two weeks in advance to ensure scheduling.
There is an hourly cost for per uniformed police officer:
For events by a UNC Asheville campus department that is specifically designed for the Campus Community or run by a campus organization: $40/hour
Educational events and traffic details run by a non-profit organization, school or government agency: $45/hour
Non-educational events or any event run by a for-profit company (or summer camps): $50/hour
Please contact Assistant Police Chief Danny Moss at dmoss@unca.edu or 828.350.4578 to schedule security services.
Any questions or concerns regarding event security may also be directed to Daran Dodd, Chief of Police at ddodd2@unca.edu or 828.251.6710.